Oh, hey, finally some D&D content on Cirsova, amirite?
Last night, I had the idea for a freemasonic title generator.
[optional superlative] [adjective] [administrative title] [location east of Crete and south of the Black Sea]
Roll 1d8 on each of these tables to determine your poobah's title!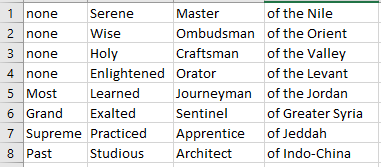 [disclaimer: this is just for fun. please do not report me to the Orient of Arkansas]
Also, be sure to check out our Kickstarter for Julian Hawthorne's Strange Recollections of Martha Klemm!